5 Expert Tips to Build Your Email List – Fast!
By: Andrea Lotz Friday July 24, 2015 comments Tags: email marketing
Email marketing is hardly the newest marketing technology at our disposal. But it hasn't faded much in popularity, quite simply because it works. Small businesses and large enterprises alike can use email to reach new eyes, move prospects through your sales funnel, and re-engage past customers.
But growing an email list isn't always easy for a small business. It build your email list right takes careful testing, good design, and the willingness to jump at every opportunity.
Fortunately, small business owners tend to be masters of nurturing relationships, and that's the key to a good email list, if you know how to apply those skills. I asked five small business owners to share their best tips to build an email list quickly. These strategies capitalize on your strengths as a business owner, don't require complicated software, and, most importantly, they're proven to work!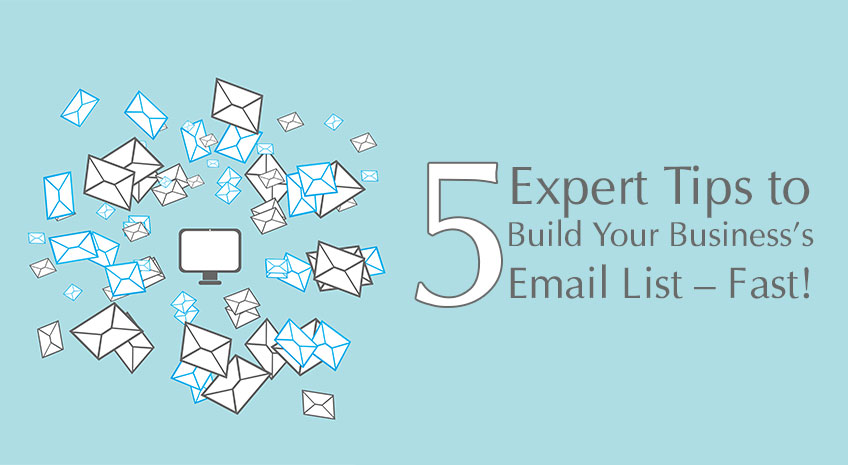 build your email list fast!">
Everyday Carry is an online community that helps people explore, buy, and recommend everyday items that people carry with them every day. They appeal to makers, tech geeks, outdoorsmen, and more, all united by a love of efficiency and great products.
This community aspect makes email marketing a powerful tool for Everyday Carry.
"Email marketing has provided us with the single biggest lift in revenue," says co-founder Jonathan Smyth. "Our strategy is always to create stories around the products we promote on the site. Who uses them, why do they prefer them and why were they made like that?"
They took their email marketing strategy very seriously, which for them meant testing everything from the design and placement of their leadboxes to email frequency to content. They use new subscribes, click-throughs, and revenue generated to compare different strategies.
"We started sending an email once per week and measured open rates and click through as well as testing different subject lines," says Smyth. "We were by far exceeding industry norms so we decided to increase the frequency of delivery, as we felt this was something our users enjoyed receiving."
Their dedication to testing has paid off with a fast-growing, highly engaged community.
"We have now increased to about 5 newsletters per week and are still seeing similar results and have been growing our list by about 20% per month," he says.
Chris Brantner, a.k.a. Mr. Cable Cutter, of Cut Cable Today, is also dedicated to testing email strategies. He seeks out individuals who want the ability to watch the specific shows and channels they want, without having to buy a cable subscription.
"One of our recent focuses has been on our email list," he says. "With all our recent traffic, we want to make sure we are creating as much recurring business as possible."
Brantner decided to try adding a pop-up form to the Cut Cable Today website.
"I'll admit, these things get on my nerves," he says. "But data suggests that you'll see a 50% increase in signups with a pop up form. So we gave it a try."
They changed from having a signup form on their sidebar and a form embedded at the bottom of their landing page to a simple pop-up form. The results were immediately apparent.
"We've had about 2.5 times more sign-ups via the form. Wow--can't argue with those results!" he says. "Just because something is not your preference, doesn't mean it is not effective for others."
Sometimes, it's a lot easier to get people's phone numbers than their email address, especially if you're a B2B company. Alan Canton, of a website design company called NewMedia Create, found that the best way to get around this is to put in some good old-fashioned legwork.
"We specialize in sites for authors and small publishers," he says. "We are members of several publisher and writing associations. They all publish a directory."
But there was a snag: the membership lists always contain a phone number, but never an email. The best way NewMedia Create has found to get access to those email addresses is to simply ask for it.
"We just start at "A" and make phone calls saying what we do and could we send them a short email flyer about it, promising not to sell or give their email away," Canton says. "Most people say yes and give us their business email and we add it to the list."
Don't be afraid to hire out this tedious, repetitive work.
"It's a great job for a summer intern, college students, or a bunch of part-time, stay-at-home moms/dads to do," Canton suggests.
Events are awesome publicity opportunities, but sometimes it can be hard to quantify your return on investment. Gathering email addresses at events is a great way to make sure you get the most out of your event or speaking engagement.
Spencer X. Smith, the principal consultant at his eponymous consulting firm, suggests giving presentations to groups like Chambers of Commerce, entrepreneurial groups, and networking groups, and distributing sign-up sheets during the presentation. You can add an incentive if you like, such as follow up notes, a downloadable e-book or whitepaper, or even a coupon.
Then they're part of your mailing list!
"Asking for the handwritten sign-ups during an in-person presentation yields almost 100% of the audience," he says.
Smith got the idea for this type of outreach from the way rock bands operate.

"The absolute best time to sell merchandise is directly after you're done performing," Smith says, "and this presentation "performance" helps capture that same enthusiasm via an in-person hard-copy sign-up sheet. My mailing list growth, as a result of this idea, has been 270% in the past three months."
This is probably the most tried and true way to grow an email list, at least based on the number of responses I got that had to do with creative incentives you can offer in exchange for email addresses.
Marc Posser, co-founder of Fit Small Business, which is an online resource center for small business owners, summed up the idea best.
"You aren't going to get very many email addresses unless you can offer people something of value in exchange for giving you their information and allowing you to contact them," he says. "Typical offers include discounts, free offers, and information. When possible, I like to offer a free demo of the product or service you're offering."
Offering a taste of your services or product has the major benefit of automatically qualifying your leads.
"Anyone that signs up for that offer is showing a strong interest in the product you're offering," Prosser says. "You're making the most of that opportunity by allowing them to try your product while enabling yourself to send them further marketing emails that hopefully will entice them to purchase the product."
AllProWebTools offers multiple opportunities to help you build your email list. Want to learn more about how our WebTools can help you build your email list? Talk to an AllPro Marketing Expert today.

Archives
Subscribe