5 Marketing Trends Your Small Business Must Adopt in 2016
By: Paige Schartz Monday December 28, 2015 comments Tags: marketing, 2016
"We'll talk in 2016." How many times have you heard or said that phrase this December? Well, 2016 is coming up, and now it's time to talk 2016 — so that when you get the wheels rolling again in January, you're ready to go with a marketing strategy to make this year the best yet!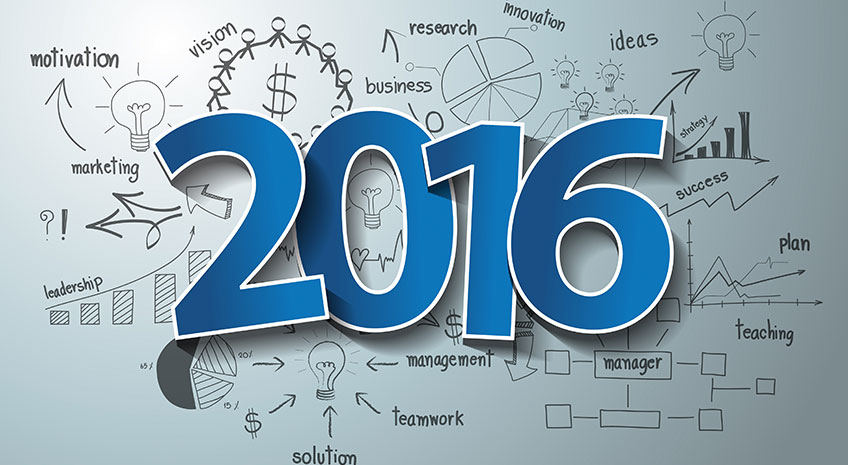 If you're still lagging on these 5 marketing best practices, 2016 is the year to find out what they can do for you!
1. Build More Relationships
Relationship marketing isn't a new thing this year, but customers are continually expecting more and more from brands as technology improves our ability to connect. Far beyond just expecting "good service," frequent points of contact, and a strong online presence, consumers now expect you to build a community for them to join.
It doesn't have to be a large community. Even the smallest of businesses can use this strategy — and are sometimes the most successful at it. The quality of the community is by far the most important.
It can be as simple as cultivating a bustling, engaging social media presence. Anywhere where your fans can talk about your brand, engage with content you post, and swap reviews and experiences will greatly improve your customer retention, while attracting new ones!
2. Go Mobile
If you're still dragging your feet on optimizing your business's online presence for mobile, 2016 is the year to go mobile and start reaping the benefits.
"2016 is the year to go mobile and start reaping the benefits." [Tweet this]
First up is your website. Is it optimized for mobile? A mobile-optimized website looks great on mobile devices, and is easy to operate. Click here to learn more about mobile-optimized websites, and find out whether you have one.
We recommend focusing on:
Responsive design (website senses what size screen it's being viewed on and adjusts content layout so it always looks great)

Fast loading speed

Finger-friendly links

Clear call to action

Easy checkout
If your site isn't mobile responsive, 2016 won't be as forgiving as 2015 was. Google is showing more and more preference to mobile-optimized sites, as are site visitors themselves. Want to talk to a professional? We'll be happy to help you out with mobile optimization at AllProWebTools!
3. Craft Quality Content
Content marketing is another area that small businesses can't afford to ignore. It's one of the best ways to build community, it establishes you as an expert in your industry, and helps you rank better on Google. What's not to love?
If you aren't sure what content marketing is, here's the gist: You create high-quality content (blog posts, videos, newsletters, infographics, e-books, etc) about your products, your industry, or anything else related to your business. Then you post it online, promote it on social media, and do whatever it takes to get that content out there in front of your target audience.
Once you're experienced in creating content for your own website, you can start branching out, by looking for opportunities to make guest posts on sites where your target audience is likely to be reading. For example, a business that makes some kind of food product might write a post for a cooking blog, with recipes explaining how to use your their product.
The most important thing to keep in mind for content marketing in 2016 is, focus on quality. That means you content should all be highly relevant to your audience, original, and full of useful images, links, and maybe one targeted call to action. Never sacrifice quality for more keywords, spammy links, or thin content. Google is on the lookout to penalize content marketers who are cutting corners.
4. Focus Your SEO Efforts
As a small business owner, your resources and time limit how much you can spend on marketing. But don't worry — you can do a lot with just a small marketing budget, if you know how to use it to your greatest advantage! That means homing in with a laser focus on what's working and cutting what's not.
This is never more true than when it comes to SEO and paid advertising. Quit trying to boil the ocean! You can get great results by focusing in on a smaller niche, whither that means a local niche, or a very specific type of online shopper.
Your keyword strategy should include some of those very specific keywords. You have a better chance of ranking for them, and they're likely to be more inexpensive. Plus, anyone who searches for those terms is a highly qualified lead!
Click here for some basic tips to help small businesses get found on Google.
5. Track Smarter
Marketing is a game of trial and error, but it's crucial to be extremely organized about how you measure and track those successes and failures. This is one weakness in many small businesses' marketing plans: Not enough emphasis on tracking results.
"1 weakness in many small businesses' marketing plans: Not enough emphasis on tracking results."
[Tweet this]
When results are tracked closely, you can quickly tell whether a new strategy is generating a return on the investment or not. You can then hone strategies that are working, and cut ones that aren't. You'll inevitably have a mixed bag of successes and failures. What counts is how quickly you can create new iterations and get closer to the best possible strategy.
For small business owners who are ready to get serious about their marketing strategy, it's critical to invest in a marketing console that will help you track the results of all your different marketing campaigns.
A console like AllProWebTools can track all your marketing campaigns from one dashboard, allowing you to compare results based on a variety of different indicators. You can even manage some of your campaigns from right in the console, and generate reports to keep you on track.
Because the console integrates your website, email marketing, SEO tracking, and points of sale, you can get unique insight into how your marketing efforts impact sales. For example, if you emailed out a coupon from AllProWebTools, you'd be able to see how many dollars in sales that email generated.
All 5 of these marketing trends are necessary to keep growing in 2016, but if you only choose one to focus on, invest in the ability to track what's working and what isn't. You'll save time and money while increasing your outreach!
What are your plans to up your marketing game in 2016? Let us know in the comments!
Archives
Subscribe