Small Business Owners: Shift Focus from SEO to Content Marketing
By: Andrea Lotz Thursday March 17, 2016 comments Tags: seo, content marketing, marketing
Lots of small business owners get in touch with us asking about SEO: Do I need it? Is it worth the price? What benefits will I receive? Is SEO dead?
None of those questions have an easy answer, but in general, we encourage small business owners to shift their focus from SEO to content marketing. Content marketing refers to a certain style and mindset about SEO that is more effective, more authentic, and more in line with how search engines want brands to interact with them.
"Content" includes:
Product descriptions on your website

Blog posts, case studies, and e-books

Videos and infographics

Newsletters and marketing emails

Social media posts
You can write about your products, your industry, or anything else related to your business. Then you post it online, promote it, and do whatever it takes to get that content in front of your target audience.
Ultimately, the goal is for that online content to be easily searchable online, trigger engagement from your audience, and set your brand up as credible experts in your industry.
If planned and implemented correctly, content marketing brings all the same benefits as traditional SEO without the need to stuff your content with keywords or employ other shady tactics to get results.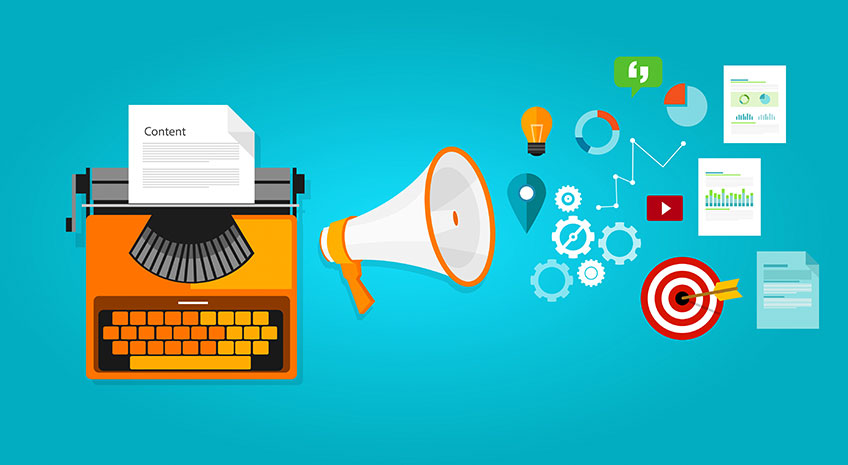 Ensuring Your Basic SEO Is Set Up
That being said, some traditional SEO is still definitely necessary to ensure your site can be found online. Google offers a service called Google My Business that can help you get set up with the basics. You should also ensure your basic social media profiles, especially Facebook, are set up.
Limit your keyword strategy to very specific keywords. You have a better chance of ranking for them and they're likely to be less expensive. Plus, anyone who searches for those terms is a highly qualified lead!
Click here for our tips to get started with the basics of SEO.
Ensure Your Site Looks & Works Great on Mobile
Content marketing focuses on bringing in site visitors and encouraging them to stick around for a while. If you don't want to miss out on the always-climbing numbers of people doing searches from their phones, make sure your site is mobile optimized.
#ContentMarketing focuses on bringing in site visitors & encouraging them to stick around.
[Tweet this]
We recommend focusing on:
Responsive design (website senses what size screen it's being viewed on and adjusts content layout so it always looks great)

Fast loading speed

Finger-friendly links

Clear call to action

Easy checkout
If your site isn't mobile responsive, 2016 won't be as forgiving as 2015 was. Google is showing more and more preference to mobile-optimized sites, as are site visitors themselves. Want to talk to a professional? We'll be happy to help you out with mobile optimization at AllProWebTools! Learn more about the basics of mobile optimization by clicking here.
Learn About Your Community
At the risk of making an obvious point, content marketing only works if the content you create appeals to your audience! That includes your company's image, voice, and style, but also the topics you write about and where you share them.
When you hit all those nails on the head, you'll start to accumulate followers — people who regularly check for your new content. Over time, those followers will hopefully gel into a community of people who discuss your industry, business, products/services, and people online.
You don't need to shoot for a large community. Even the smallest of businesses can use this strategy — and are sometimes the most successful at it. The quality of the community is by far the most important.
It can be as simple as cultivating a regular social media presence. Anywhere where your fans can evangelize your brand, engage with your content, and post reviews will greatly improve your customer retention and help you attract new eyes!
Write Out Your Plan
This is the area where many small business owners struggle: creating, documenting, and implementing a testable plan. How will you know if what you're doing is working if you don't even have clear documentation of what you're doing? Plus this will help you stay organized and on-schedule — crucial for developing a thriving, active online community.
Here are the factors you must consider when documenting your content marketing plan:
Set the Boundaries
Content marketing is an area where it's easy to over-extend your commitment. Creating quality content takes time, and adequately promoting it takes money. That means it's crucial to be laser-focused on what's working and quickly cut what isn't.
It's much better to commit to a smaller schedule and volume of content than to overextend. Limit yourself based on time and money, and focus on only the sharing platforms that are most effective. If your audience isn't on Twitter, there's no need to keep a Twitter account up-to-date.
It's much better to commit to a smaller schedule & volume of content than to overextend.
[Tweet this]
The most important thing to keep in mind for content marketing in 2016 is a focus on quality. Never sacrifice quality for more keywords, spammy links, or thin content. Google is on the lookout to penalize content marketers who are cutting corners!
Find Your Voice(s)
As you're planning out your strategy, it's important to very intentionally choose your company's "voice." Voice refers to your style of writing (casual, funny, professional, etc.), but it also refers to visual elements. A consistent voice across your website, social media, and emails will help your brand stick in the minds of your target audience.
You'll also want to consider whether your brand will have one voice or several. Having a blog written by one person in the company is better than no blog at all, but a blog with posts from several employees, plus some guest contributors, roundups from the community, and so on will be even more effective.
Work Out Logistics
Especially if you aren't technically savvy, figuring out how you'll get your content online, shared on relevant social networks, and promoted with advertising dollars can seem extremely complex.
You have two options: you can invest in software like AllProWebTools, which allows you to post content online, send marketing emails, and manage your online campaigns all without the need for coding, or you can outsource the distribution of your content. Either way, you'll need to budget the time and/or money.
Define and Measure For Success
When results are tracked closely, you can quickly tell whether a new strategy is achieving results or not. You can then grow strategies that are working while cutting ones that aren't. It's inevitably a game of trial and error, but tracking your results makes the game scientific rather than random.
A console like AllProWebTools can track all your marketing campaigns from one dashboard, allowing you to compare results based on a variety of different indicators. You can even manage some of your campaigns from right in the console, and generate reports to keep you on track.
But what do you measure? This depends on what your goals are for content marketing. If you're looking to purely generate revenue, that's your metric. The tough part will be figuring out how to determine whether a sale was triggered by content marketing. If you value building brand awareness, then maybe you'd be more interested in tracking visits to your site, engagement on social, or how long a visitor stays on your site.
Future-Proofing Your Strategy
Just as many of the traditional "SEO tactics" have become obsolete, certain aspects of content marketing will inevitably fall out of favor too. Search engine technology evolves rapidly, as does digital marketing. Because content marketing is at the intersection of the two, things change quickly.
Here are some tips to future-proof your content marketing:
Quality over Quantity: Always choose to produce better content rather than simply producing more. Google is getting better at weeding out bad content all the time because customers don't like it! You're doing no one a favor by churning out a lot of poor-quality blog posts.

Beware the Short Cut: Building a reputation online takes time — it's just a fact of the world today. Any tip that focuses heavily on the short term is likely to be a loophole that Google is actively working to close. You'll just end up with another outdated strategy that way.

Think Like Google: When you're evaluating a potential marketing strategy, think about whether you're working with Google or fighting them. Google's algorithms get more sophisticated every day, and in general they're getting better at stopping people who're trying to trick them!
Content marketing is absolutely within the grasp of most small businesses. It's a bit of a perspective shift from traditional SEO, but the rewards are worth it. Developing a community of people who care about your business not only increases sales, but also makes running a business more rewarding!
Successful marketing takes a lot of work, but you don't have to do it alone! Contact an AllPro Marketing Expert to help you establish the best marketing strategy for you.

Archives
Subscribe