Small Business Basics for Getting Found on Google
By: Paige Schartz Friday May 15, 2015 comments Tags: seo, google
It's official: a web presence for a small business is no longer a luxury. More and more, people use the internet to search for new businesses do research before they try them.
According to Google, four out of five people use search engines to find local businesses. They look for business hours, the business's address, photos, and reviews to help make their decision. Google says that consumers are almost 30% more likely to consider purchasing from a business with a complete online listing.
Potential customers who know your brand name as a result of other marketing campaigns are likely to Google the business before they do anything else. They're looking for cues that your business is well-liked. They're looking for the security of information. They're looking for a brand that they identify with.
In their eyes, if you can't be found online, you may as well not exist.
So how do you make sure your website can be easily found on Google and other search engines? How do you make sure that your business catches the eye of your target audience?
First of all, you need a website. Second, you need a website that people will easily find on Google. Taking a few basic steps to improve your small business's searchability can greatly improve the number of qualified new leads coming your way.
Here are some great ways to get started.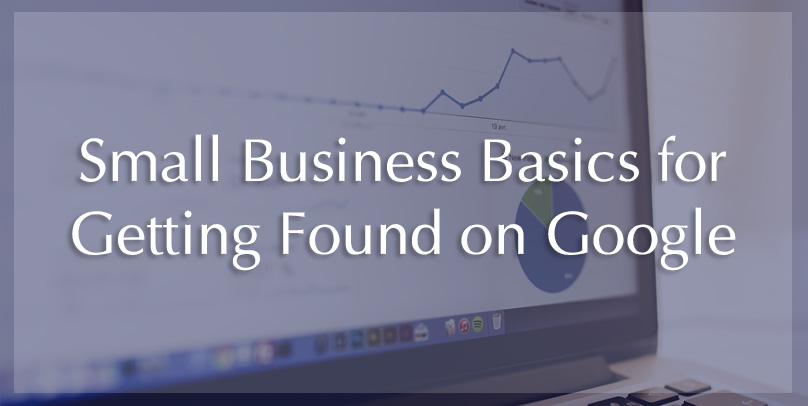 Give Google the Details
Google has recently begun a new service called "Google My Business," designed to help small businesses get on the online map. You can learn more about it here.
If you tell Google who you are and what you do, they're more likely to put you in front of highly-qualified leads. Any more information you can give Google will help: hours of operation, photos, coupons, etc.
Complete listings make your business look reputable, as well as making you easier to find.
Target Relevant Keywords and Phrases
What problem does your business solve? People are searching for the answer to that problem on Google. Your job is to address their problems and offer solutions.
I strongly recommend getting some help getting your website optimized for search engines. But don't surrender the reins altogether. You should work with your expert to strategize about keywords and how best to incorporate them into your website.
A great trick to rank for competitive keywords is to add a local element. You might not be able to rank for "massage therapist," but you could rank for "Denver massage therapist."
Look for other ways to get as specific as possible. That's the best way for small businesses to get ahead on SEO.
Optimize for Mobile
Recently, Google has started taking a site's mobile-friendliness into account for searches from mobile devices. You can read more about how this update impacts small business owners here.
Pay Attention to Load Time
If your website loads slowly, you actually get a double loss. Site visitors are likely to get frustrated and leave your site in favor of a faster one. And Google uses page load speed to decide which pages get ranked higher.
Create Social Media Pages for Company
Social media profiles are another thing that lets potential customers know your business is legitimate, and gives a more personal sense of your brand. Creating them gives people the opportunity to advocate for your brand, and gives you the chance to reach new audiences.
Make sure to fill them out thoroughly, and commit to updating them consistently, even if infrequently. Only create as many profiles as you can keep current.
Encourage Reviews, Engagement, and Comments
Google gets "buzz." If people are talking about and reviewing your product all the time, that tells Google that you can be trusted, and they'll sometimes rank you higher. You can get reviews from Google Places, Twitter, Yelp and other industry-specific sites.
Having highly-visible reviews coming up when people search for you gives potential new customers a sense of security. Finding no reviews at all is almost as bad as finding bad reviews.
Provide Highly Useful Content
Earlier in this article, I mentioned that you should aim to solve problems that people are searching for answers to. You do that with your product or service, but your website can also provide answers.
If your website is highly informative, interesting, and solves problems, people will remember you. Even if they aren't ready to make a purchase right then, they will think of you as an expert. And when they do need a solution, they're more likely to come to you.
Keeping a blog of tips and stories related to your industry is a great way to bring in new visitors, and get them to stay longer on your site.
Be Wary of Shortcuts
Unfortunately, a lot of small businesses get bad advice about search engine optimization. Make sure to run any suggestion you get through you own personal reality check. Think, if I came to this website, would I find it helpful?
If your content is over-stuffed with keywords, if you use deceptive keywords to bring people in, and many other "shortcuts," you might get a bump in the short-term, but long-term, your reputation with your customers and Google will suffer.
Look Beyond Your Rankings
Don't get obsessed with how well you're ranking. It's only a small part of your online presence. As a small business, your goal is to be easily found online. You don't need to rank on the first page of Google for tons of keywords to achieve that.
Here are the key questions you should ask yourself to stay on track:
Can people who know my business's name easily find information about me online?
Do I take advantage of locally-specific keywords?
Does my website provide a service to people whose problem I solve?
If the answer to those three questions is yes, congratulations! You've got the basics of small business SEO down!
Archives
Subscribe