New From AllProWebTools: Website Drag and Drop Editor
By: Anna Yates Tuesday March 26, 2019 comments Tags: #apwt5, features, website
AllProWebTools 5.0 has added a new way to create website pages - the Drag & Drop Editor. With the new editor, beautiful and powerful webpages are only a few clicks away!
With the old editor, TinyMCE, it took more clicks and more time to create and edit webpages. The editor was geared toward text-based pages, and although the end products looked nice, the editor had fewer options for creative web designs.
Advantages of Drag & Drop Editor
Easy - h

undreds of templates and widget options that you can simply drag and drop

isually appealing - highly professional, attractive page layouts

Intuitive - user-friendly interface for simple setup

Fast - build webpages in 1 minute just by dragging and customizing templates
Landing Pages - built fast
You still have the option to create webpages in the TinyMCE editor (especially for blogs), but there is no crossover between the Drag & Drop and TinyMCE editors - pages created with the old editor cannot convert to the new one, and new pages cannot convert to the old editor. Wondering which pages were made with which editors? Gray icons identify pages made in the TinyMCE editor, whereas orange icons identify pages made in the Drag & Drop editor.
Drag & Drop Editor Features
So what will you get with the Drag & Drop Editor?
Hundreds of templates - with content blocks ranging from testimonials to pricing to sign-up forms and configured in a plethora of different styles, you can choose the look you want without starting from scratch.
Customized templates - if you have a page that needs to be duplicated many times (for instance, an employee bio page), you can save a webpage you've customized as a template and use it later.
Dozens of powerful widgets - video, action buttons, sign-up forms, and countdown timers are just a few of the options you can add to your page.
Mobile Preview - see how your page will appear on phones, tablets, and laptops with the measuring tape at the top of the editor.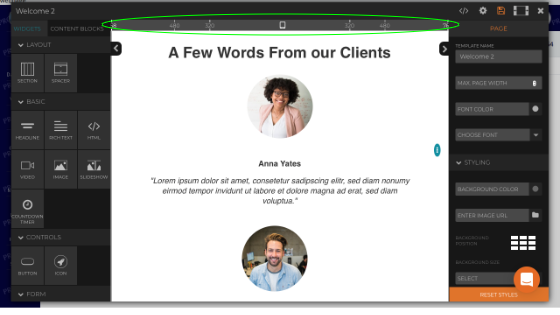 Ready to start creating beautiful pages in minutes with the Drag & Drop Editor? Read our blog on how to add the Drag & Drop Editor to your AllProWebTools account and create a page with the editor. We hope your website, customer engagement, and sales exponentially improves with this tool!
Archives
Subscribe