Small Business CRM: The Hook, Line, and Sinker Method for Landing Leads
By: Andrea Lotz Tuesday March 3, 2015 comments
How many leads wiggle off your hook each month? If you aren't using a Customer Relationship Management (CRM) system, you may not even really know the answer to that question – so how can you possibly address the problem?
I'm not the first to compare sales to fishing – it's a pretty apt metaphor for the way customers must be wooed and shepherded toward conversion. Fishing and sales both rely on a process: You bait the hook, you wait for a bite, and then you carefully reel it in. Your leads are a lot smarter than fish, though, and you'll have to pursue them more actively.
This can set you up for a lot of work: hunting down leads, carefully and meticulously tracking customer interactions, remembering to follow up, and ensuring customer satisfaction. The stakes are high – just like with fishing, if you aren't paying attention, your customers could slip off the line. And just like fishing, an effective sales strategy also requires tools. Ever tried to catch a fish with your bare hands?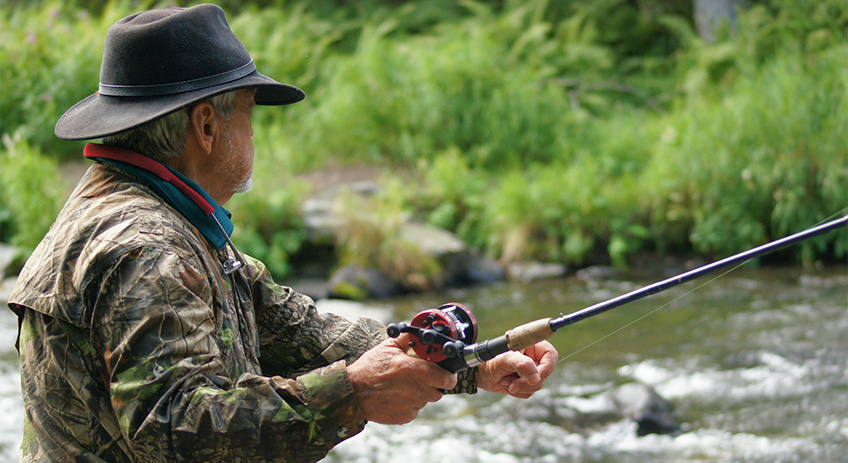 Many small business owners don't realize that trying to catch leads without a CRM can be just as difficult as catching a fish without a fishing pole.
Using the right CRM tool can help you increase conversion, without giving yourself a lot more work to do. Just by helping you get a process in place, CRM can get you more organized and help you start thinking more strategically about sales.
The more you can use software to simplify that process – eliminate redundancy, consolidate information, and automate where you can – the more easily you'll be able to keep track of leads and, more importantly, turn those leads into satisfied repeat customers.
Here's how to use a CRM system to land your leads: hook, line, and sinker.
Hook: Get Their Attention
The first step in any sales strategy is getting people interested in what you have to offer. If you've done your research, you know what sets you apart from the pack and what problem your business solves. You also need to have a clear sense of who you're targeting: what does your ideal customer look like?
From here, you are ready to start experimenting with ways to attract those ideal customers and inform them about what makes you the best solution for their problem.
It's time to rethink the way you think about bait.
Just like how different types of fish respond better to different kinds of bait, different kinds of customers respond to different branding, incentives, and types of outreach. It's generally a good idea to start with one strategy, assess how it's performing, and then make a choice to continue using it or not. Then add another strategy, and another, and another, always making sure to keep up that evaluation.
CRM can help you get organized about this process. Especially if your CRM comes as part of a small business ERP solution, you'll have access to all kinds of reports that can help you track the results of your marketing campaigns. For example, if you've created several landing pages for your site, you can find out which ones are converting the most customers.(Tip: If you're having trouble creating good landing pages, make sure you're including a clear call to action that tells customers exactly what you want them to do.)
A CRM tool can also help you find more leads, and store their information in a secure place where you can easily access it. You can create website lead boxes to collect contact information for potential customers, and it will automatically be entered into your contact database. AllProWebTools CRM also comes with a Gather Leads tool, which allows you to search for leads based on keywords and location.
Before you know it, you'll be the master of baiting the hook so your customers can't help but bite.
Line: Keep Their Attention
Once you've "got one on the line," you can really start to make the most of your CRM. At this point, you must be very careful not to drop a lead – like in fishing, this is the riskiest part, where the most will get away.
It's crucial to make multiple points of contact here. This helps your customers feel secure, like you're going to take care of their needs. This is crucial if you want customers to choose you over larger businesses.
Small business CRM can help you set up a sales pipeline, which tracks the sales process from your first contact with a prospect, your interactions with the lead up to the sale, and through the closing process including invoicing. Keeping this process highly organized will give you a huge edge.
A good sales pipeline will remind you when you need to call leads back, will keep track of your progress towards closing a sale, and will put all your business contacts in one easily searchable, sortable database for easy access.
If your CRM is integrated with your business email provider in a small business ERP system, you'll be able to tag those contacts to receive targeted emails, including coupons, newsletters, and educational materials like eBooks and webinars.
Don't make the mistake of ignoring the potential of CRM to give you an edge over less organized competitors!
Sinker: Create Satisfied Lifetime Customers
Once you've closed the sale, the sales process resets. Small business CRM can help you turn those customers into repeat business, by helping you stay top of mind. Remember – it's always less expensive to keep a past customer than to convert a new one.
Make sure to keep in contact with past customers via email. Keep on sending them newsletters, coupons, and educational materials, and keep calling them! When they look to make another purchase, they think of you first! Your CRM tool can help you set up a schedule to contact them: not too often, not too rarely.
A great tool offered by AllProWebTools' CRM is a live workflow timeline feed of client history. It includes past purchases, emails sent, and all internal client notes made by anyone on your team. This is a great way to make sure your messaging stays consistent no matter who talks to a customer, and it also helps you address customer satisfaction issues with superhuman speed.
Another great way to get the most value out of past customers is to ask for testimonials and referrals. You can use your CRM to schedule the best time to ask this. Asking too soon could cause them to ignore your request, and asking too late might mean they've forgotten about you. Do some experimentation to figure out at what point in the sales process you get the best results, and then make that part of your standard procedure.
A CRM tool is essential for small business owners looking to convert more customers. You'll reap the benefits of organization, automation, and consolidation even more if that CRM is integrated into a small business ERP. Gone are the days when CRM and ERP were only affordable to big businesses – don't miss the chance to get ahead on the competition!
Archives
Subscribe