New from AllProWebTools: CRM Email Inbox [4.5]
By: Elijah Mendonca Wednesday December 28, 2016 comments Tags: allprowebtools, crm, email, 4.5, new features
Upgrade the way you communicate
This will change the entire dynamic of how you interact with your customers
The Inherent Problem with Email
The first email ever sent was in 1971. That's nearing 5 decades ago! As the system grew and progressed, it was never really designed with business needs in mind. By default, emails organize your information by subject line, making it cumbersome to get an accurate read of the subject matter and up-to-date information if the thread has been overused.
By organizing your emails by customer instead, we've reimagined the emailing system for business use.
One of the most common things a customer will do is respond to an aged, outdated email you sent them ever so long ago. Now, not only is your subject line cluttered & unrelated (you'll have to keep track of that, by the way), and your information convoluted, but the email itself drops to the bottom of your inbox since the thread is old. AllProWebTools improves this inefficiency by pulling the most recent correspondence to the top when it shows up in a contact record or your Workflow Timeline. Our small business CRM gives you the most effective and user-friendly way to organize emails!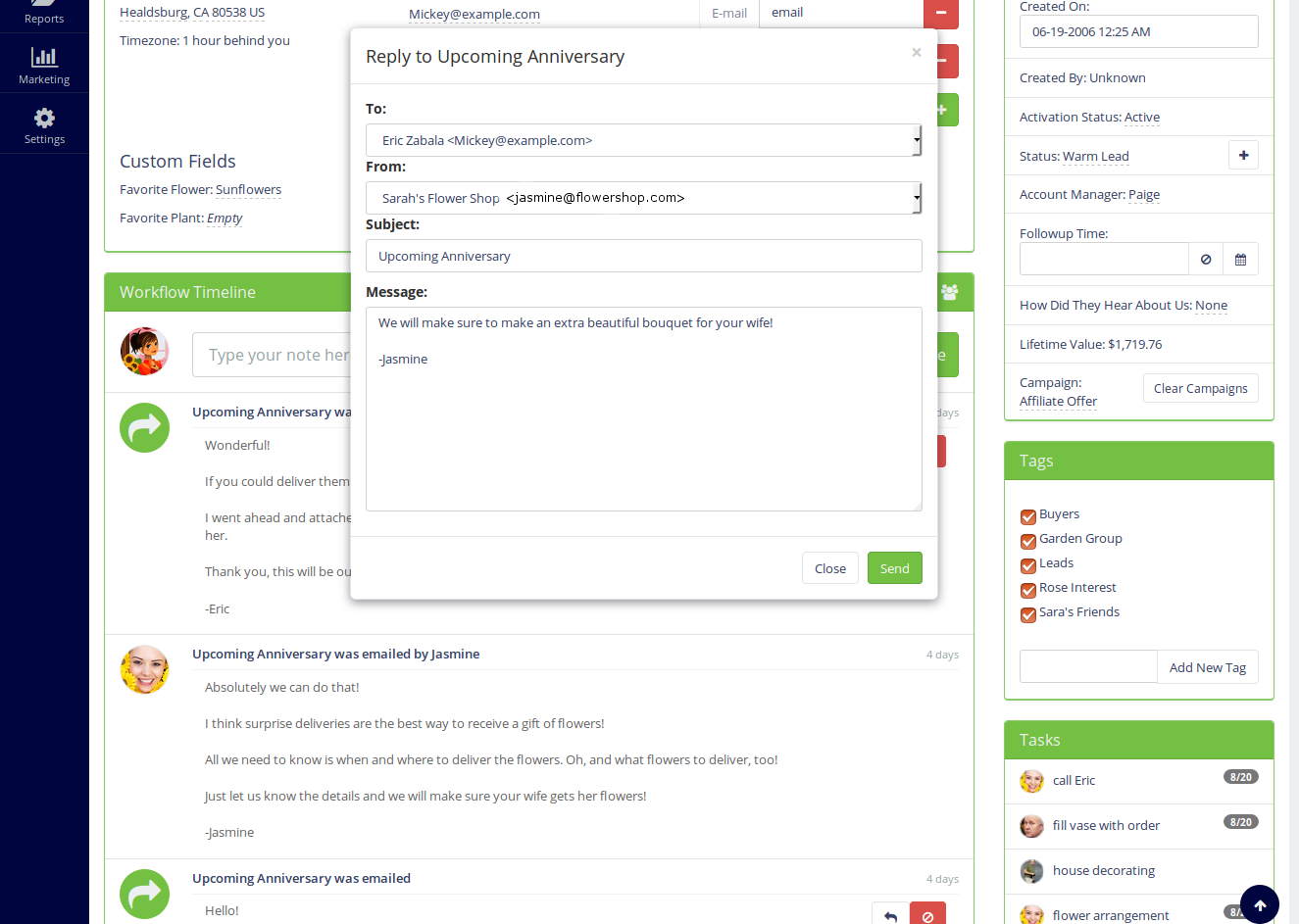 Missed Connections
With your current small business CRM, you've probably experienced one or more of the following scenarios:
One client takes a liking to a particular employee of yours and now only interacts with that person. But the client is left hanging when that employee goes on vacation.
Your employees aren't as regular and accurate about updating the CRM notes for each client as they should be.
The dreaded "spam folder" phenomenon. It might not have been your fault, but you still didn't see that introduction from a new client, or the order your favorite customer wanted delivered a week ago.
Clients end up emailing someone in marketing with a support question, or just follow an incorrect line of communication, and a request for help is missed in the process.
With the CRM Email Inbox, you can simplify all of this!
Got an email from a client? It's instantly whitelisted, and you'll see it in your Workflow Timeline. Running from computer to computer all day; trying to make sure nothing slips through the cracks is pointless & time consuming. You deserve better!
Say Good Riddance to Clutter
Here's a quick recap of what our small business CRM Email Inbox will do for you:
Got that one client who sends different emails to multiple people at your office, with different content? Are you going to run from computer to computer trying to get the entire picture? Are you going to waste precious work time asking all of your employees for an update on ONE client? Can you be sure everyone has updated the client notes fully? Cast off the hassle: the CRM Email Inbox will show you every email that comes in, in real time, so you'll always have a bird's eye view.
In a typical email thread, you'd have to scroll all the way to the bottom of the correspondence to see the latest information. Why waste time? AllProWebTools will now automatically arrange - from top to bottom - the flow of information in order of most recent communication.
Do you have customers that use more than one email address? More than three?? How do you know which email you need to use? You shouldn't need to create another contact record every time Angelo decides to create a new email address! If you receive a new email from an existing customer that's now using a new email address, you'll be given the option to search for an existing contact record, and then click "Add to CRM" - so every email you receive in the future from the new email address will automatically be associated with just one, main CRM account.
Copy/pasting email correspondence to every client's contact record is no longer necessary.
Solicitations getting you down? AllProWebTools will automatically filter out marketing and spam emails if the senders email address is not in your CRM. Should anything slip through, you also have the ability to add email addresses to a "block list," and those will NEVER show up in your Workflow Timeline.
Information should flow freely and clearly, and we believe the CRM Email Inbox WebTool is a huge step in that direction.
User Reports
The CRM Email Inbox is a powerful new tool for small business CRM. But don't just take our word for how convenient this new WebTool is - read what our Beta testers have reported:
Christine Hernandez of Champion Carpet Colorado says that her work email address is linked to her phone, but she's often extremely busy and may not always be the fastest at responding to them. But now that any email she receives shows up in the Champion Carpet Workflow Timline, the rest of her employees can take care of anything that needs an urgent response!
Katie Myers of CR Conversations gets tons of emails from clients she've never met before, and often finds herself in a backlog of entering their information to her CRM. With the CRM Email Inbox, she can see every single incoming email that hasn't been associated with an existing contact record, and with the click of a button have them added as new contacts in her CRM. AllProWebTools automatically pulls the name and email address to create a brand new contact record, complete with the email correspondence!
FAQ about the CRM Email Inbox
It DOES NOT replace your external email inbox. It simply provides a copy of all client correspondence over to your small business CRM.

It works with every external Email Inbox (Outlook, Yahoo, Gmail, etc).

It will ONLY display emails from email addresses that have a contact record in your small business CRM. Personal correspondence that you don't want visible to everyone in your company will not show up in the timeline, as long as there is no contact record associated with the email address.

You are able to add or prevent email correspondence from showing up in the timeline by adding or removing an email address from individual contact records.

This WebTool allows you to add new email addresses that are currently unmatched to your small business CRM, either by adding them to an existing contact record, or creating a new contact record.
Temporary limitations of this feature include the inability to CC contacts, upload or display attachments & use email templates when responding to an email via the CRM or Timeline.
Ready to get your CRM Email Inbox set up?
We're just as excited as you are, so we made a separate blog post that goes over the entire setup process in as much detail as possible.
Archives
Subscribe