New from AllProWebTools: GPS Routing [4.5]
By: Dave Kramer Monday February 13, 2017 comments Tags: allprowebtools, gps, driving, routing
I've been through a lot of different lists that tell you all about "the apps that every travelling salesperson needs." Granted, there's a lot of good stuff out there, but they all seem to be missing the cohesiveness that I've come to expect from any software.
Some of them are pricy, but have multitudes of useful features. The others aren't expensive at all but barely meet the requirements I imagine most salespeople would have on the move. Some lists insist that a note-taking app is required, in addition to a lead management system or CRM integration, and many others.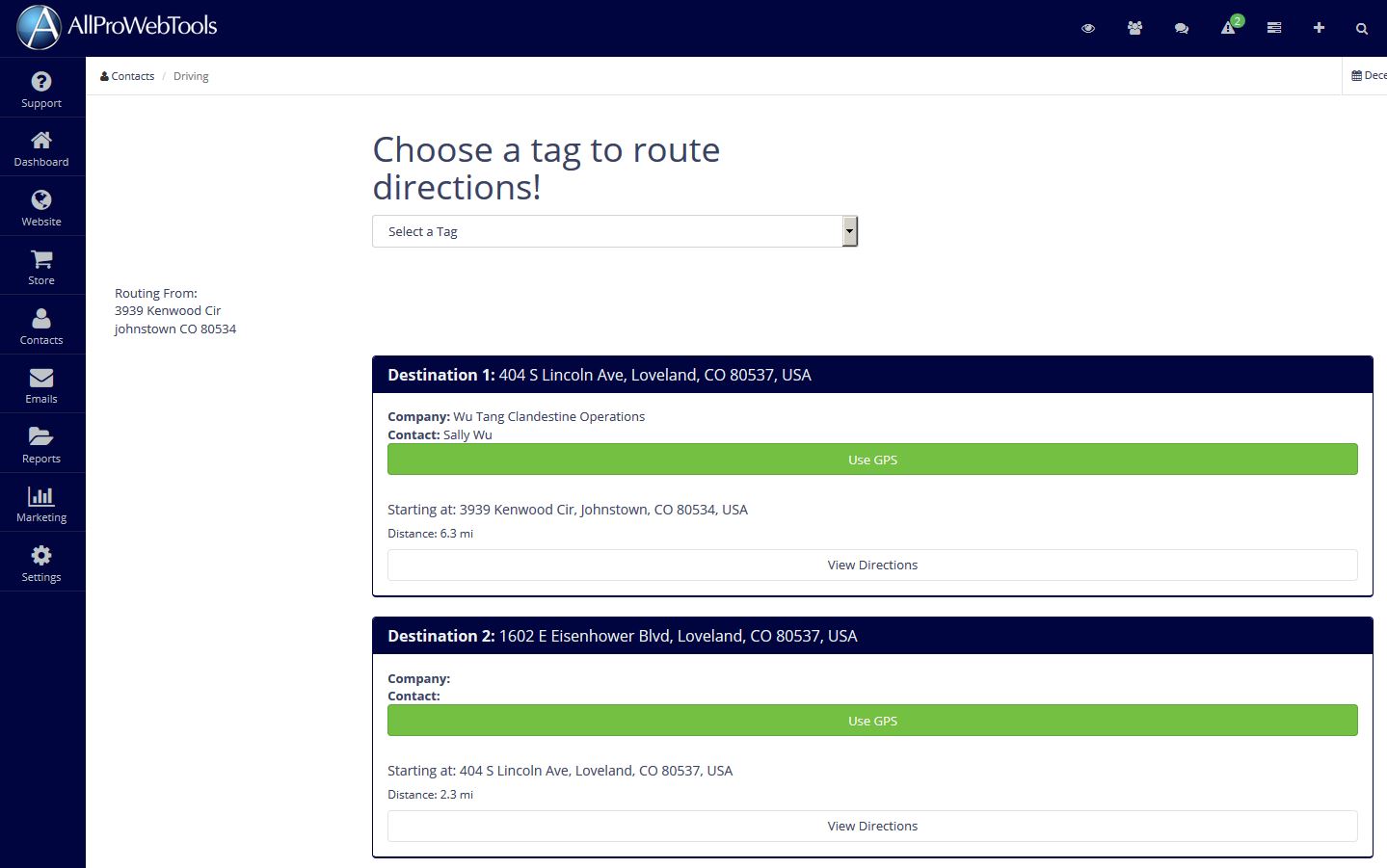 Why not just do away with the clunkiness of meshing different pieces of software together? AllProWebTools has just released its GPS Routing WebTool for salespeople. The tool works by gathering the location data of all the contacts in a particular tag, and finding the quickest route between them before dropping you off back where you started. Since it's part of AllProWebTools, there's no need for a CRM Integration, a note taking system, a tasking app or even google searching for that matter - it's all right here in one place.
There are two ways this tool can be used:
Method 1: Use The Acquire Leads System
With the Acquire Leads WebTool, you're able to search for new prospects in only a couple of clicks. Simply create a new tag and search for certain kinds of businesses near you. The Acquire Leads tool will automatically display businesses that suit your search requirements. If they seem interesting enough and you'd like to pay them a visit, add some notes, click Add to Pipeline and you're off! Make sure you've created a new tag that's only used for your driving duties for the day, and that these new leads are getting filtered into that tag.
Method 2: Manually Adding People
You also have the option to tag individual CRM records as part of your new driving tag. People can be added or removed at any time. This is a great method to use if you plan on visiting existing customers.
Once done, go to Contacts → Driving and select the tag you made. The Driving tool will find the business closest to you, and then the quickest route between the rest, so you spend as little time as possible on the road!
You can view the step by step directions by clicking "View Directions," or just hit "Use GPS" to start up your phone's GPS system and get going!
Archives
Subscribe