AllProWebTools SMTP Service
By: Dave Kramer Wednesday April 5, 2017 comments
We are always working hard to make AllProWebTools the best all-in-one technology solution for small businesses. With our latest upgrade to version 4.51, we are excited to announce many new features that we know will make managing your business even easier - starting with Email Marketing.
Prior to this version, AllProWebTools clients were asked to get an account with a 3rd party SMTP provider such as JangoMail, Mandrill, or SendGrid in order to send emails through AllProWebTools. Once the third-party account was established, you would need to go through a very involved process to get it connected to your AllProWebTools account. As we referred more and more of our users to these 3rd party services - their prices started going up and we would look for another option to help keep costs down for our clients. We soon realized the only way to truly keep costs down for our small business owners was to build an SMTP Email Service of our own - so we did!

In the latest AllProWebTools version, we are excited to offer our clients a fully integrated SMTP service that is easy to setup. While you can continue to use any SMTP service provider with your AllProWebTools account, we think you will want to upgrade to the AllProWebTools SMTP email system to benefit from the following features:
Reputation reporting
Instant notification if emails cannot be sent
Great Deliverability
Emails delivered to inboxes fast!
One of the best benefits of using our SMTP service is that you only need to contact one company to get help if you have a problem or question about your Email Marketing. We know you will also like our super low pricing, as well as the complete integration of your database with all the other features AllProWebTools has to offer.
Some of the lowest pricing in the industry!
Your standard $10/month cost in AllProWebTools for Email Marketing now includes the first 1,000 emails you send each month. Have more than 1,000 emails to send? No problem! For every additional 1,000 emails you send each month you only pay $2. Take a look at the following chart for a more complete look at our email pricing:
| Emails Sent per Month | Emails | Email Marketing WebTool | Total |
| --- | --- | --- | --- |
| 0 - 1,999 | $0 | $10 | $10 |
| 2,000 - 2,999 | $2 | $10 | $12 |
| 4,000 - 4,999 | $6 | $10 | $16 |
| 8,000 - 8,999 | $16 | $10 | $26 |
| 20,000 - 20,999 | $38 | $10 | $48 |
| 40,000 - 40,999 | $78 | $10 | $88 |
Unlike most other email marketing service providers, you don't pay according to the size of your list - just for the emails you send. So don't be afraid to add all your contacts to your AllProWebTools CRM - afterall you should be using our CRM to take notes and keep track of information on all your contacts anyway! To put this in perspective, if your email database surpasses 2,500 contacts you will only pay $14 to send one email to all of them in a month with AllProWebTools. In comparison, MailChimp will charge you $35/month because of your list size - regardless of whether or not you send any emails. With Vertical Response and Constant Contact, you will pay even more as a database of 2,500 contacts will set you back $55/month and $65/month respectively - and that's even if you don't send a single email!
Be sure to read: https://www.allprowebtools.com/The-War-Against-SPAM/ for tips to avoid losing your ability to send emails. We also suggest this blog post: https://www.allprowebtools.com/small-business-email-marketing-tips-and-tricks-part-1/
Here are the steps to get started:
1. Choose the "Settings" from the main menu and go to the "Emails".
2. Next, click the tab that says "SMTP Settings" then click the button that says "APWT SMTP Registration"

3. Enter your email address
4. Verify that the domain name is correct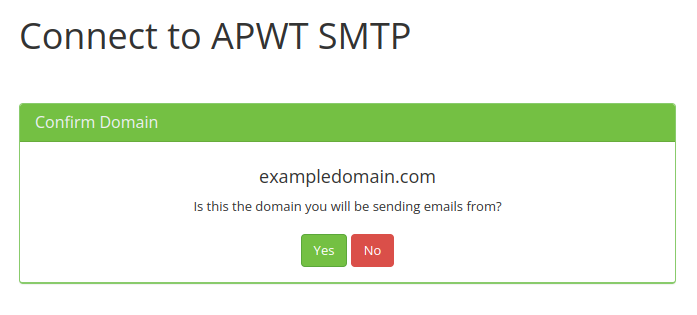 5. Now you will be presented with 4 DNS records that you will need to update with your domain registrar - this is where you bought your domain from (like GoDaddy, NetworkSolutions, HostGator, etc).
You can contact your domain registrar to help adding these records. If you are already using the AllProWebTools DNS service - this step will automatically be done for you!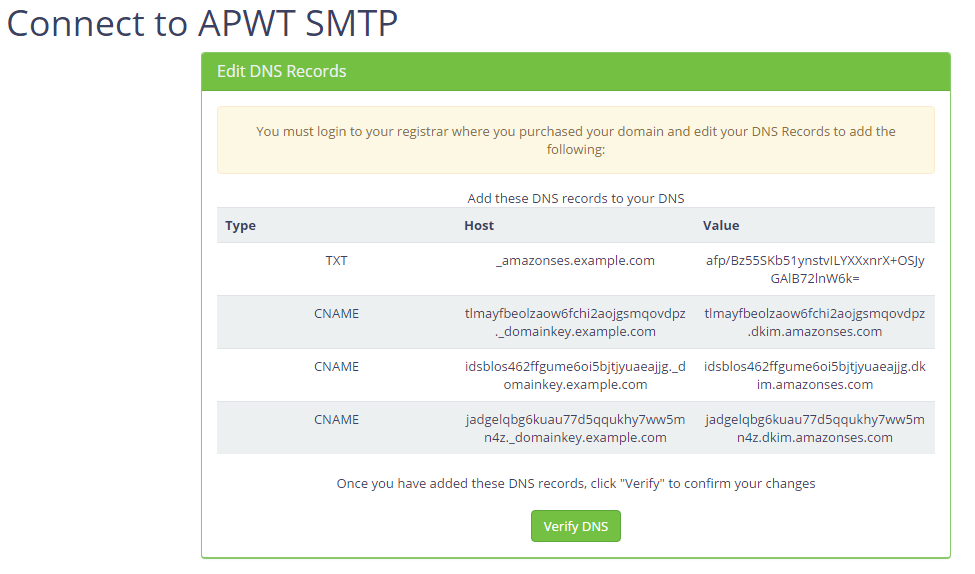 6. Your DNS changes will be confirmed. Click "continue"

7. Now you will be asked to verify your email addresses that are NOT at your registered domain name. So if your domain name is "example.com" but you want to send emails as myname@gmail.com - that does not match your domain so you will have to verify that email address.
Click "Verify Email" and an email will be sent to you from "Amazon". The email will have a link that you can click to verify each email address.

8. That is it - you are all set!
We could go on and on telling you why our SMTP service, combined with all the other features AllProWebTools provides, is better for you and your small business, but we'd rather have you try it out and see for yourself. Contact your AllProWebTools Certified Expert today and ask to upgrade to the AllProWebTools SMTP service. We're sure you won't regret it.

Archives
Subscribe