Manage Facebook Chats with AllProWebTools
By: Anna Yates Thursday August 15, 2019 comments Tags: facebook, crm, marketing
You Asked, We Answered! Take Facebook Messages with AllProWebTools
Facebook is the giant of social media. It's one of the best ways to increase your brand awareness, lead generation, and customer support efficiency online. But if Facebook doesn't integrate with your CRM, you and your team may be spending hours every week managing Facebook messages and leads.

Our users asked us for Facebook Integration, and AllProWebTools heard their request! In AllProWebTools 5.1, you have even more marketing power at your fingertips with the Facebook Integration.

With the Facebook Integration tool from AllProWebTools, you can:
Streamline your communication with customers.

Follow up with customers faster.

Save time downloading and uploading leads.

Consolidate your marketing through AllProWebTools.

Increase communication between your team members by having every conversation recorded in AllProWebTools.
Facebook Messenger
Facebook Messenger has 1.3 billion users - chances are, your customers use the app frequently! With the AllProWebTools Facebook integration, you can tap into that powerful resource for customer support and effective lead generation.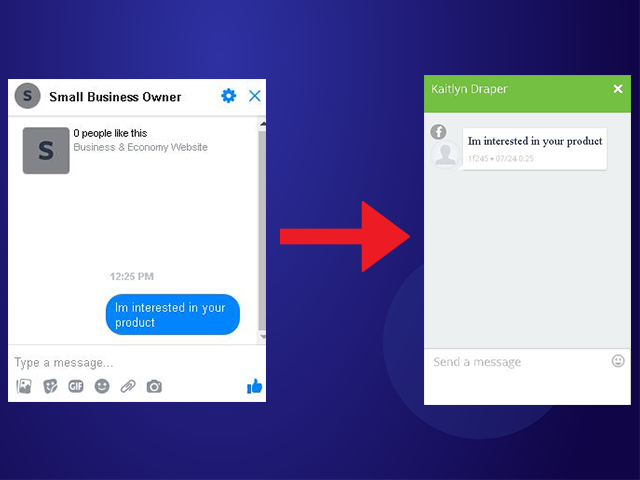 What

can I do with Facebook Messenger in the i

ntegration?
Lead Generation

- When

someone

new

messages your Facebook

page, you can add them as a contact to your CRM and start sending them texts and emails through your marketing campaigns. Now, you can capture even more leads and make sure to follow up with every person who is interested in your business!

Customer

Service & Support - Facebook Messenger is an easy and convenient way for customers to ask questions and get information. But you need a way to see and respond to messages quickly. With the Facebook integration, you'll get a notification right on the dashboard when someone messages your Facebook page. Anyone on your team can respond to the message and see a record of the conversation.
Record Every Conversation - When you have different team members for customer support, sales, and account management, it's important for them

all

to see the history of correspondence with a lead.

With the Facebook integration, AllProWebTools keeps a record of every conversation your team members have with a client. Communication and efficiency in your company can be a breeze!

Drip Campaigns - With the Marketing Campaigns WebTool, you can currently send emails and texts as part of your drip campaigns to follow up with leads. We're working on making Facebook Messages an option to include in your drip campaigns so you can reach customers one more way! Look out for this feature in future releases.
Here's how it works: when a new contact messages your business page on Facebook, you'll get a notification at the top of your AllProWebTools dashboard, just like you would for a call or a text. You can then create a CRM record for that contact, and reply to their message in AllProWebTools. You never have to log in to Facebook!
If the contact has messaged you before, a box will pop up with the conversation and you can reply from there directly. Every message is recorded in the contact's CRM record, so any team member can read the whole conversation. You can still see and respond to messages through your Facebook page, but with Facebook integration you don't have to log in to Facebook or switch tabs to see your messages.
Facebook Lead Forms
Are you using Facebook lead forms to capture leads from your social marketing campaigns? Do you find yourself spending hours every week downloading leads from Facebook and uploading them to your CRM? Does it take a few days to follow up with customers? Is it difficult to tell if leads who don't convert are unqualified, or if they became disinterested because of the delay in follow up?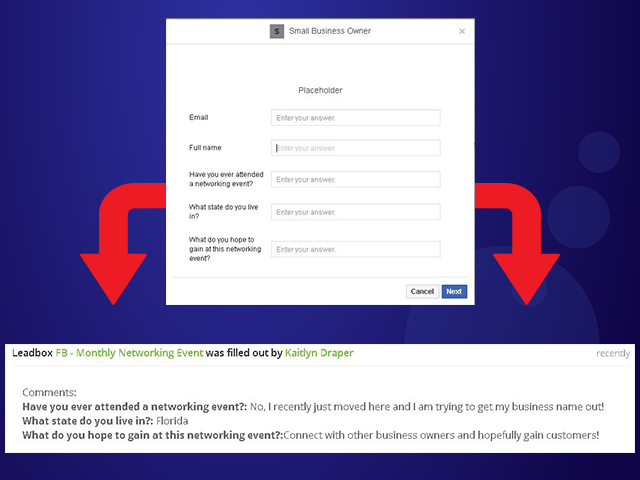 Without integration with Facebook, it takes 5-10 steps to get leads from the lead form to the CRM, and even more steps to start following up with leads.
There is an easier way!
The Facebook integration records contacts in AllProWebTools automatically, so you can have even more control over your marketing.
What

can I do with Facebook Lead Forms in the integration?
Automatically

create a CRM record for leads who fill out Facebook lead forms.

Receive text notifications for new Facebook leads.

Send new Facebook leads a follow-up email as soon as they sign up.
With the Facebook integration, people who fill out your Facebook lead forms automatically become contacts in your AllProWebTools CRM. Now, you don't have to check Facebook Ads Manager and download files with the name, email, and phone number of leads in order to follow up with them. Here's how it works:
A new lead fills out a Facebook lead form.
A

new

CRM record is automatically

generated

in AllProWebTools

.

The name, email, phone number, and any other information you gather from the lead form on Facebook will automatically be added to the CRM record.
You can receive a text notification of the lead
An email automatically goes out to new leads.
Instead of having a delay of a few hours or days between when a contact fills out a lead form and gets an email or text, you can follow up immediately. Instant follow up times lets customers know you care about their business and helps them convert before they lose interest. Plus, you get consolidated marketing power by streamlining your Facebook marketing with your email and text marketing.


Get Started with Facebook Integration!
Archives
Subscribe