Send Individual Emails From Your CRM
By: Dave Kramer Wednesday April 19, 2017 comments Tags: email marketing, allprowebtools, features
How often has this happened to you? You receive an email from a customer asking for a follow-up on the status of a project. You can't remember exactly what the status is. You go to your email and begin sifting through email correspondence between you and your customer. There are multiple email threads and a number of back and forths. You finally uncover that you turned the project over to one of your employees. So you reach out to your employee to get a status update - your employee then spends 10-15 minutes doing the exact same thing before getting back to you with an answer.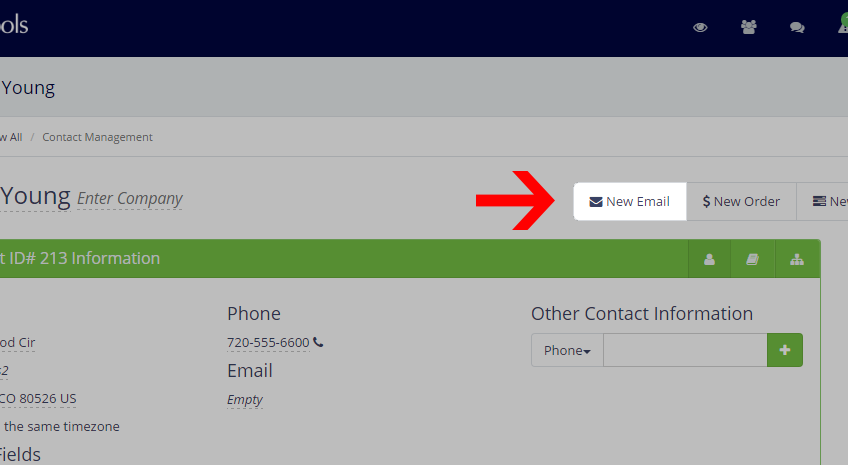 We know this sort of thing happens all the time - it happened to us too! It is a frustrating, waste of time that sometimes doesn't even result in a true answer to your original question. So with our 4.51 version of AllProWebTools we decided to solve this very issue...and make the solution even better than expected! Your small business CRM just got more powerful.
You know you've always been able to send mass emails and automated drip emails through your AllProWebTools system but with the release of version 4.51 you no longer need to leave AllProWebTools to correspond individually with your customers. The result? A seamless email communication that attaches to the timeline and the CRM record of your specific customer, so you can see your notes, tasks and correspondence all in one place! And not only you, but everyone in the company can see everything attached to that customer record as well. This is a great feature for managers or sales teams that work together so they can easily see at a glance what is happening with a particular customer or prospect.
Okay, technically, we created this functionality with version 4.5, but here's how we made our small business email communication and small business CRM even better!
HTML Formatting
The 4.5 version was very basic (yet we received rave reviews from our clients!). You could only send a simple text version of your email with options for subject, to, from and message. Think text message but from your computer - sans emoticons.
With version 4.51 however, you now have the same formatting functionality you would see in your regular email client - bold, italics, bullets, pictures, links, etc. But the added benefit here is that your emails all attach directly to the CRM record associated with that email address. So sending an email through AllProWebTools to a customer is just the same as sending it through another email client except you get the added benefit of seeing everything all in one place. Now you can use your small business CRMto send and track every one of your emails!
Custom Signature
With version 4.51 you can now create a custom, HTML email signature with all the same formatting options you get in your message. Want to include your logo? No problem! How about link it to your website? You can do that too. Go to Settings > Users to get to your list of users. Click on the user you want to create a signature for and then click on "Authorship". Here you can create a biography and add an image that will append to any blog post that user writes in the AllProWebTools system, but by scrolling to the bottom you can also customize your signature. Once set up, that signature will become available when you click "Advanced Options" in a new email window when you are writing to a customer.
File Attachments
Another great benefit of version 4.51 - we now include the ability to send attachments through our emails - and there is no file limit! That's right, because your files are stored in your AllProWebTools account on our servers, your attachment actually includes a link to download the attachment directly from the server. This makes it easy to send large files and the recipient doesn't have to use a lot of data opening your email on their phone. Instead, they can download the attachment from their computer at a time and place that is more convenient to them.
Another benefit of sending files this way is that if you need to change the file after you send the email - no problem! Simply change the file on the server and your recipient will download the latest version and won't even be aware it ever changed.
Email Templates
Finally, one of our favorite new features is the ability to load an email template from one of your previously sent emails. Like the layout of that email you sent last week? Load it as a template and simply change the text or images to whatever you want. Have a standard response or proposal you send often? Load that email as a template and simply make any verbiage changes you deem necessary without having to recreate the entire email. Your small business CRM can streamline your email creation process and save you time!
You can use any email you have sent as the template for a new email. If you send a lot of emails it's easy to find what you're looking for. Simply start typing the name of the email and the system will find it for you.
The best part of all of these features is that there is no additional cost to use them - we are simply making your experience even better! If you have the Base package plus Email and CRM you will receive all these additional features automatically. Don't have email but want to add it? Simply go to Settings > WebTools and add Email Marketing from the list of available WebTools.
Our goal is to help small business owners be as efficient as possible on a lean operating budget. Have a question about your AllProWebTools small business CRM or need to get setup with a system of your own? Contact one of our Experts to get started.

Archives
Subscribe