Welcome to 2016: 16 Must-Have Tools to Grow Your Small Business
By: Paige Schartz Tuesday January 5, 2016 comments Tags: 2016, small business, growth
Small business owners, this year is your year! You've powered through the holidays, made your resolutions for the new year, and now you're ready to set goals to put your plan in action.
AllProWebTools is here to help you make this year your best yet with our unique toolkit of tools for small business. In honor of 2016, here are the top 16 tools in AllProWebTools that will take your business to the next level this year. Ready to grow?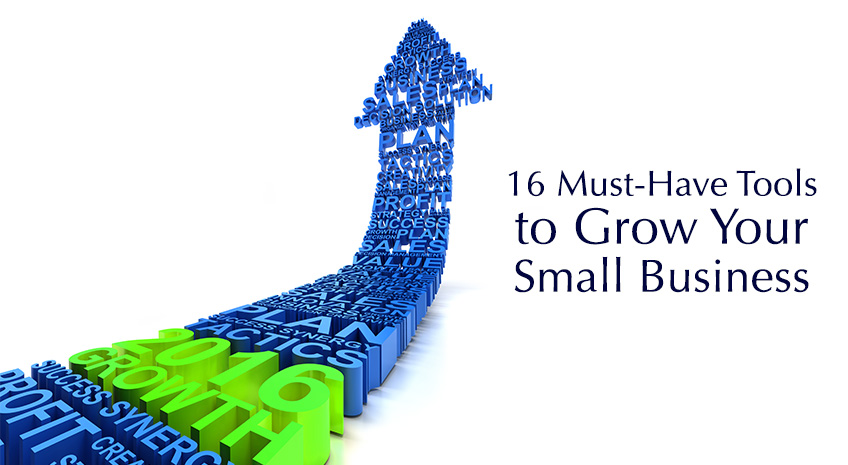 To Beef Up Your Website:
1. Content Management System (CMS)
Today, websites must have content that is up-to-date, personal, and new! The problem is, with many websites, it's difficult for you as the business owner to get in to change or add content.
A CMS, like the one included with AllProWebTools, allows you to easily access your web pages and blog posts from an online console. You can then make changes, create new pages, and more. If you can use Microsoft Word, you can make a web page!
In 2016: Move your website over to a platform with a CMS, such as AllProWebTools, so you can easily make changes yourself. Click here to learn more!
2. Dictionary Tool
SEO best practices change fast, but a great way to future-proof your strategy is to make high-quality, easy-access information available on your website, using the AllProWebTools Dictionary Tool!
The Dictionary Tool allows you to define certain key terms, creating pages that offer a complete definition. Then the tool goes through your site and looks for all instances of your defined terms and links to your dictionary pages. Google loves it, and so will your site visitors!
In 2016: Create a few key dictionary term pages in AllProWebTools! Click here to learn how.
3. Website Memberships
Looking for a new way to monetize your website? Try creating members-only content on your website, then charging for Memberships!
This works great for business coaches, but it can be a great resource for a variety of industries to offer paid content. Try offering exclusive web pages, exclusive products, or an interactive element.
In 2016: Add Memberships to your AllProWebTools subscription and start earning from your website. Learn how to set them up in this blog post.
4. Search Engine Ranker
It's hard to understand cause and effect when working on your search engine rankings. What caused that dip or spike? Did your competitors experience the same thing?
"It's hard to understand cause & effect when working on your search engine rankings." [Tweet this]
The Search Engine Ranker from AllProWebTools allows you to instantly look up rankings and compare to competitors, all in the context of changes you made to your strategy so you can see what worked and what didn't.
In 2016: Visit this page to learn more, and consider adding the Search Engine Ranker to your AllProWebTools.
To Organize Your Team:
5. Tasking
Tired of the inevitable misunderstandings and miscommunications that happen when you give tasks verbally? Try the AllProWebTools Tasking System, and get your whole team organized.
You and your team can set deadlines, monitor progress on tasks, pass tasks around the office, and assign priorities to keep communication smooth, silent, and clear.
In 2016: Learn about recent updates to our Tasking System here, and give it a try this year!
6. Timecards
Whether you're a solopreneur, or if you manage a small team, Timecards from AllProWebTools can help you reclaim lost productivity. Tracking time is linked to all sorts of benefits. You'll be able to budget time & resources more accurately, prioritize tasks, and find out where you and your team can save time.
In 2016: Start a culture of time-tracking in your business, plus check out our new GPS Timecards!
7. Live Chat
Almost every small business office has a need for frequent communication, but it's so easy for the balance to tip, and for communication to become distracting. AllProWebTools Live Chat allows your team to communicate silently, decreasing distractions and enabling conversations to take place even when you can't "talk."
Plus, all chats are stored in your AllProWebTools console, so you can look back on past conversations to look for off-task employees, skim back through important chats, and search in the console for key words.
In 2016: Start using Live Chat today! This blog post shares how it can boost productivity and improve communication in your business.
8. Productivity Reports
Many small business owners don't realize that they haven't just signed on to be their "own boss" — they're responsible for being good bosses to their employees as well!
Tracking employee productivity isn't easy, especially for new business owners. Productivity Reports from AllProWebTools give you an easy way to compare hours worked, profitability, chats, task progress, and more across your whole team.
In 2016: Get organized about productivity and learn more about Productivity Reports in this article.
To Keep Your Office Sane
9. Password Manager
Small business owners in general need to be much more careful about passwords. If you're using the same password for multiple accounts, or if you're using passwords that are easy to remember, you're leaving your information and your clients' information at risk!
The AllProWebTools Password Manager helps you create, store, and easily access passwords for all your accounts. You can even give your employees access to select passwords, using a clearance level system.
In 2016: Get serious about online security, without the hassle. Learn more about password security in this article.
10. Online Appointment Scheduling
If you're considering hiring an assistant to deal with scheduling your appointments, you might be able to save some money by using Online Scheduling from AllProWebTools.
Using Google Calendar, you can allow your clients to book appointments with you online. You can even charge them right away, to reduce cancellations. Let AllProWebTools be your assistant in 2016!
"Let AllProWebTools be your assistant in 2016!" [Tweet this]
In 2016: Consider allowing your clients to schedule their own appointments online. Learn more here.
To Boost Sales
11. Sales Pipeline
How organized is your sales process? If you have some room for improvement, try getting more organized using a Sales Pipeline, like the one you can get with AllProWebTools.
Our Sales Pipeline keeps contacts organized, helps you plan your sales and commission, and reminds you to follow up, using pop-up notifications.
In 2016: Embrace the Pipeline! Find out more about how to organize yours sales process in this article.
12. Email Campaign Manager
If you used somebody else's email marketing system in 2015, 2016 is the year to find out what makes our solution special.
Like other solutions, AllProWebTools Email Marketing allows you to create email triggers, automate campaigns, and track your results. But we go beyond tracking opens and click-throughs. We'll tell you the sales impact each email generated in dollars!
In 2016: Start measuring emails in dollars, and learn more about AllProWebTools Email Marketing!
13. Affiliate Marketing
Would your customers love to refer you to their friends and family? Do you have partners that could send new business your way? Affiliate marketing lets you track how many people are referred to you by these partners, using unique tracking URLs.
In 2016: Let affiliates do some of your sales and marketing for you! This article has some information on affiliates.
To Improve Customer Relationships
14. Customer Relationship Management (CRM)
If you aren't using a CRM system yet, you're doing your business a major disservice. There's no better way to keep information about your clients organized, to schedule follow-up, and to calculate the value of your customers.
AllProWebTools CRM is uniquely integrated with your sales pipeline, your points of sale, email marketing, and even your tasking system. It helps you stay organized, make more sales, and keep customers satsified!
In 2016: Get a CRM! Here are 5 reasons they're non-optional for small businesses.
15. Dropbox Integration
Tired of searching for files related to your clients while you're on the phone with them? AllProWebTools CRM now allows you to create a Dropbox folder for each client, instantly accessible from that client's page in your contact manager.
In 2016: Keep your client files organized right in your CRM. Learn more in this blog post.
To Manage Your Business Anywhere
Because AllProWebTools integrates all these diverse business tools into one toolkit, we were able to create the Workflow Timeline, a unique live feed of your most important business updates.
New sales, abandoned ecommerce carts, timecard notes, task updates, and the latest from email marketing all post to the Timeline in reverse chronological order. It makes it easy to skim and scan the Workflow Timeline at any time for important information, from any location.
In 2016: Stay connected even when you're out of the office by using the Workflow Timeline. Find out how a Workflow Timeline benefits employees in this blog post.
What are your plans to grow your business in 2016, and how can AllProWebTools help?
Archives
Subscribe